What's more exciting than throwing a part for your two year old? Having a taco themed party of course! Here, you'll find all sorts of inspiration to throw a cute, easy, and fun taco TWOsday birthday party. We have decorations, outfits, food, and drinks covered. How much easier can it get?!
This party theme was inspired by one of the greatest things ever: Taco Tuesday. So let's get started with hosting a punny party that'll please all your attendees, from age two and up!
Jump to:
👚 Outfits
One of the most fun parts of party planning for me is finding the cutest outfits for everyone in the fam to dress up in. Your mileage may vary on if others share your enthusiasm, but hey, cute is cute! It will be clear this is a taco TWOsday birthday when your guests take a look at everyone.
Adult taco dress with pockets
This taco dress for adults is not only comfortable, but includes pockets. That's an insta-buy from me!
Youth flutter dress
The matching taco dress for children is sure to make your family photos pop!
Adult taco short sleeve shirt
With a tasteful pattern and comfortable fabric, you'll want to wear this shirt every taco Tuesday.
Youth taco shirt
No one will be left guessing how old your child is with this adorable "I'm this many tacos old" shirt. What's great is you can customize the color and it has shirt or bodysuit options. Fit for any style!
🎈 Decorations
Setting up your party space can be as easy as a few clicks. We've put together some great starting points for you to spice up your taco party. Choose from a full kit or if you're more of an a la carte kinda person, try some of our recommendations as a starting point!
All-In-One Kit
This all-in-one taco twosday decoration kit includes is reasonably priced at about $16 and includes:
A 2' foil balloon
A taco twosday banner
12 cupcake toppers
A cupcake topper of a cactus spelling the word "two"
2 cactus balloons
A taco balloon
2 balloon straws
6 fiesta paper fans
4 paper pompom flowers
Tableware
Your tabletops will look so cute with these theme-appropriate tableware options.
Go easy on yourself and get this taco tableware kit. It includes plates, napkins, and cups. We're fans of how the color pops on black.
You may be more of a cactus/succulent kind of person. We feel you (hello plant sale!) and can recommend this cute cactus tableware kit. No need to worry about prickly bits with this set of cups, napkins, and even two plate sizes!
Sipping on straws may be preferable for you or your guests. If this is the case, then we have two cute options!
This pack of fiesta themed swirly straws comes with 24 straws and includes a cleaning bruh. The eight different designs added to the tops of these straws are cute and can help your guests keep track of whose cup belongs to who. As a bonus, it includes a cleaning brush. Score! Check out the link if you want to see an adorable mustache-wearing avocado. 😍
Maybe paper straws are more your style. In that case, there's a fiesta themed paper straw set that's adorable. You get 72 paper straws with colored chevrons. There are 6 different chevron colors and 6 different fiesta images. Be aware though, this kit requires you to use (the included) adhesive dots to secure the images to the straws. While this requires some extra work, it can also be a fun thing to let your guests do to personalize their straws!
We all know that chips and salsa or dip are going to be the center of attention at your party table. The certified international ceramic chip and dish bowl is a high quality, beautiful way to serve chips with an integrated dip bowl in the center. It's not the cheapest serving dish, at $29 at the time of writing this, but it sure is cute. Maybe you want to be more thrifty with your serving dish but still want to shake it up a bit and have a little fun. A clean sombrero can also be used as a festive display for your chips. We don't recommend putting dip right on it though!
Try adding a fiesta themed table runner to bring it all together. As a bonus, you can reuse this for Cinco de Mayo!
Balloons & Garland
Balloons and garland are versatile decorations that can spice up anywhere you want to place them. Your mailbox? Check. Your front door? Check. The favorite part of your house/yard for photo ops? Oh heck yes - check!
Balloon banners are a nice big way to announce the special occasion. Snag a Taco Twosday balloon banner in pink or blue.
If you want to stick with paper banners, there's a simple yet elegant banner from caketothetop over on Etsy. We love how you can customize the glitter. ✨
Level up your photo ops by incorporating balloon garland into your TWOsday celebration. We like this fiesta themed balloon arch because of the cute mini piñata it comes with!
Hang swirly streamers to extend the fiesta vibes throughout your party space. You get a variety of designs using this 20-piece set that's easy to hang and already assembled.
Taco Party Time
Cake toppers are an easy way to theme any cake. No need to custom order and wait. Find what fits your taste preferences and budget, then slap one of these bad boys on 'em and call it a day.
Glitter fans and mustache fans unite in this adorable cake topper. While it's about 8 inches wide, the feet that stick into the cake are only about 5 inches apart so it's sure to fit a variety of cake options you might find at your favorite grocery store.
If you're leaning the succulents/cacti route, this photo backdrop complements your other decorations. Otherwise, another backdrop with balloon font is a solid option with playful colors.
Leave succulents around your party place to keep the taco TWOsday vibe going no matter where you are. You might be able to snag some good deals at the garden section of your local hardware store or warehouse. If living succulents are still too much for your not-green-thumbs (no shame!), you can always opt for fake ones! We like this set of 5 artificial succulent plants with round pots. If square bases are more your thing, this set of 3 colorful artificial succulents is both colorful and charming.
🌮 Food & Drink
7 Layer Dip
7-layer dip was one of the top go-to recipes I brought to parties back in school. You can customize it and it has all sorts of flavors in a single bite. Check out a couple of our favorite recipes below!
Best 7 Layer Dip Recipe
This easy to put together 7 layer dip is loaded with flavors! Perfect for setting out at a party or for having as an appetizer at home.
Check out this recipe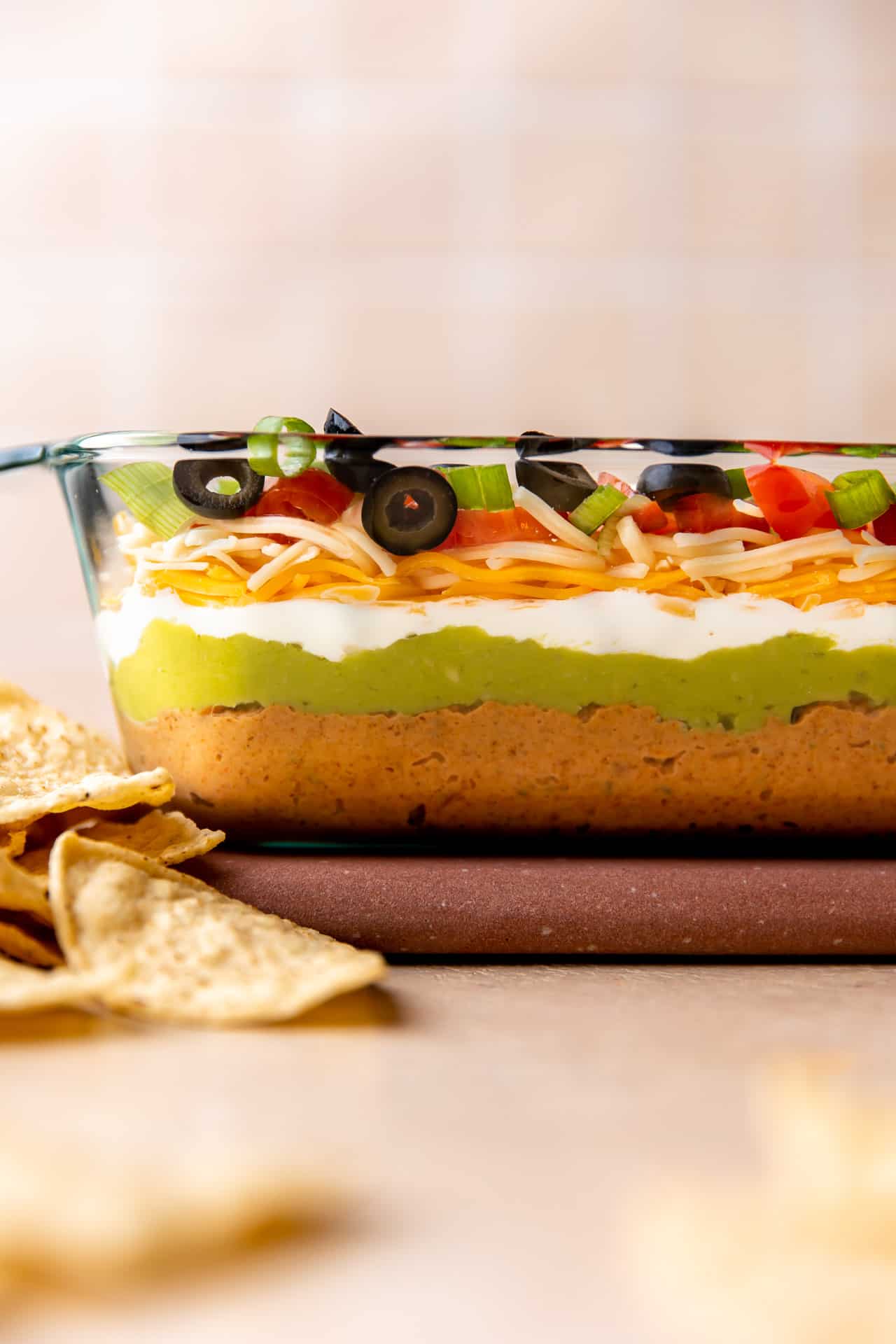 7 Layer Dip
7 layer dip is the perfect party appetizer. We love making this homemade dip for potlucks and parties. Serve it with tortilla chips for the perfect appie!
Check out this recipe
Chips & Queso, Salsa, Guac
Chips and dip are a party staple, regardless of theme. But when your celebrating taco TWOsday, it's even better. Comment below with your favorite dip to pair with chips. Can you choose just one?
Queso Recipe - Best Queso Dip and HOW TO VIDEO
This queso recipe is the most delicious white cheese dip you will ever taste. Just like at your favorite Mexican restaurant, made easy at home.
Check out this recipe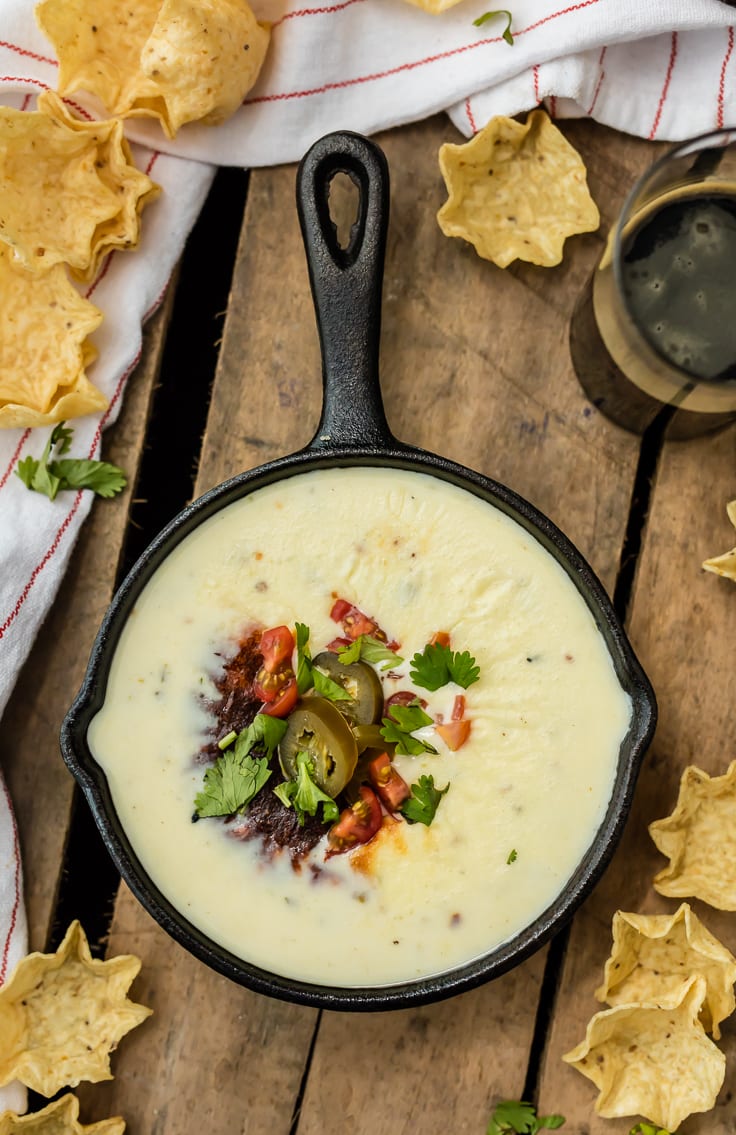 The Best Homemade Salsa Recipe (With Video)
Secrets of making the Best Homemade Salsa Recipe! This restaurant style salsa recipe is loaded with flavor, has an amazing texture, and a secret ingredient.
Check out this recipe
Best Ever Guacamole (Fresh, Easy & Authentic)
This is the BEST guacamole recipe as it's simple to make and uses fresh, high quality ingredients. Authentic guacamole doesn't contain fillers and unnecessary ingredients.
Check out this recipe
Taco Bar
The taco bar is an easy crowd pleaser and the soul of a taco TWOsday birthday party. It lets people make tacos their perfect way and doesn't require a ton of effort to throw together. How easy is that?! Plus if any leftovers survive, there are no complaints from the fam as we devour them the next day. Here is the anatomy of a taco bar to help you get started:
Tortillas & Shells
You can include as many different varieties of tortillas and shells as you see fit. My personal favorite is homemade corn tortillas, but do what works for you!
Flour tortillas
Corn tortillas
Hard shells
Protein
Grilled chicken
Shredded chicken (a crock pot makes this so easy)
Pork
Steak
Black beans
Refried beans
Tofu
Veggies
Olives
Diced tomatoes
Onions
Fresh sliced Jalapeño
Corn
Lettuce - the crunchier the better
Additional Toppings
Shredded cheese
Sour cream
Cilantro
Guacamole
Sliced avocado
Salsa or pico de gallo
Lime wedge
Cactus Cookies
Cactus cookies are cute and delicious. We had to include them! The nature of baking and making royal icing give this party component a bigger time requirement that we consider "easiest party ever" so this is one of those things we recommend sourcing from your local bakery or grocer!
Cactus Pretzel Sticks / Rods
If you do want DIY cactus snacks, look no further than this easy cactus pretzel stick recipe.
Desert Saguaro Cactus Decorated Pretzels
These decorated pretzels are super super easy to make and so much fun to add to any desert themed party like a fiesta party! Make as a treat for the dessert table or hand out as a party favor it doesn't matter which you choose your guests are going to love them.
Check out this recipe
Mexican Hot Chocolate
Were you expecting to see Mexican hot chocolate on our drink list? We all know the margarita, but this non-alcoholic drink sends your tastebuds to Latin America and is a hit whether or not you're 21+.
Mexican Hot Chocolate
Ever wondered how to make Mexican Hot Chocolate? I've got the best Mexican Hot Chocolate Recipe ever for you! Made with lot's of spices.
Check out this recipe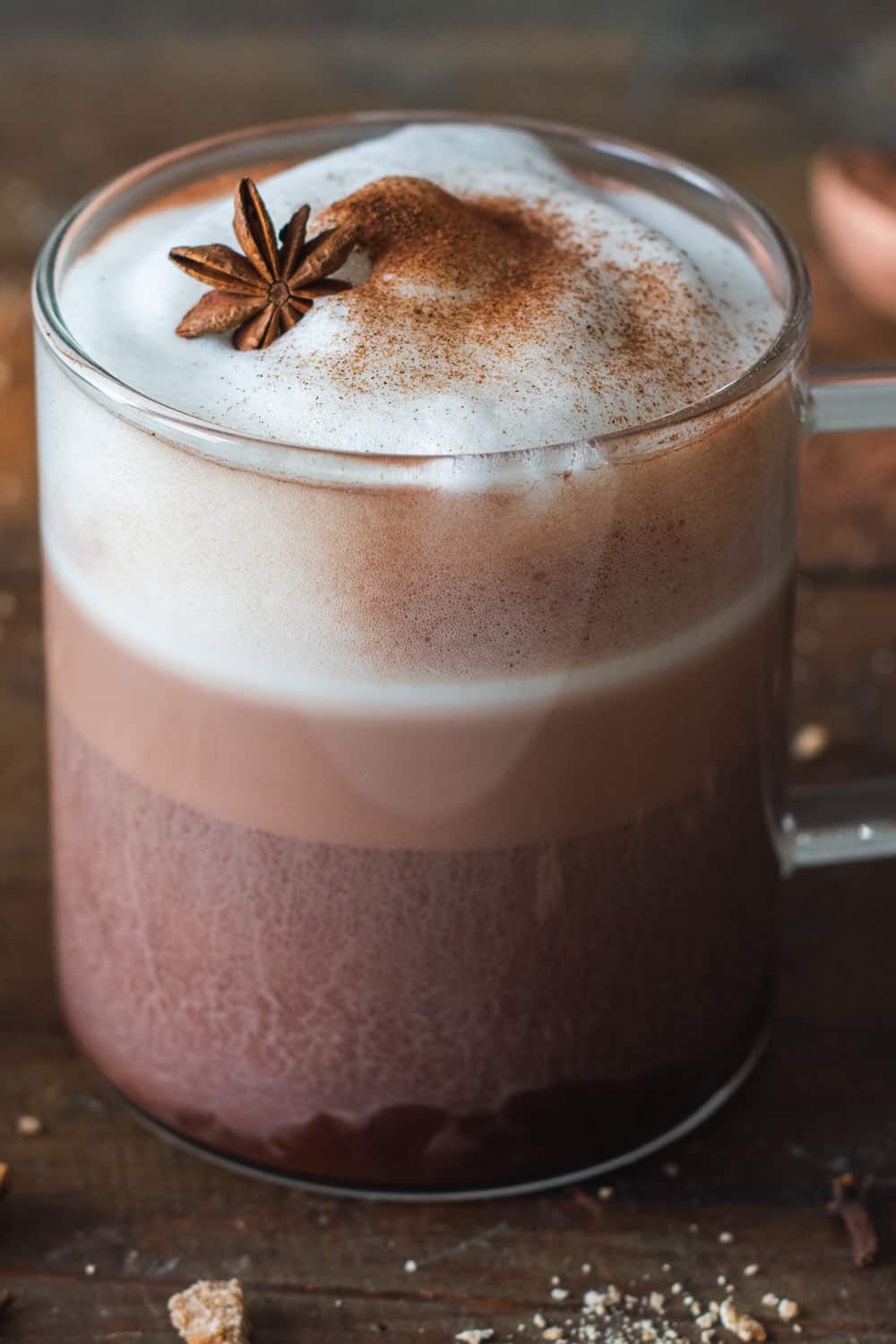 Agua de Jamaica (Hibiscus Tea)
Another non-alcoholic recommendation from us. The color is to die for and so is the flavor. You can even make it little bubbly by adding seltzer. Do not sleep on this drink!
Easy Agua de Jamaica (Hibiscus Iced Tea)
Cool off with a glass of agua de Jamaica. Made with just 2 ingredients, This Mexican agua fresca is sweet, tart, and refreshing.
Check out this recipe
🪅 Games & Activities
Piñata
The piñata is an iconic part of Mexican traditions. It's a fun game you can easily bring to your birthday party. Pick up your favorite piñata at Amazon or your local party store and learn about the tradition of piñatas. Be sure to define how many hits each person gets so more folks have a chance to get in on the fun! You could get a fiesta-themed number 2 just in case anyone forgot this is a Taco TWOsday birthday, not Taco Tuesday.
Inflatable Ball Pit
What we love most about inflatable ball pits are how easy it can be to store them while not in use. That is, if you can keep your kids out of it long enough to pack it up! We like Intex's castle bouncer ball pit because it's from a reputable brand, can fit 2 kids, and comes with a 100 pack of balls.
🎁 Party Favors
Mini Piñatas
You won't find any treats inside a mini piñata because the real treats were the piñatas we made along the way. No, okay, that doesn't make sense but giving your guests mini taco piñatas does make sense. There are also llama piñata versions, but the tacos are just so on brand for this party theme.
Cactus Bottle Opener
The party may be for your two year old, but adults enjoy a little bit of love too! Fans of the cactus and succulent version of this party theme are sure to appreciate a magnetic bottle opener shaped like a cactus. It's cute enough to be fridge art on its own, but gives you that extra smile when you use a prickly pear to prepare your margarita.
⭐️ Top Tip
One of our favorite things about the taco TWOsday birthday theme is how easy it can be to bring together all sorts of different decorations. Things don't have to match perfectly and pops of color add to the festivity.
Share Your Taco TWOsday Experience
Did you throw a Taco TWOsday birthday party? Comment below and lettuce know how it went! 🥬