"Santa Baby" is the perfect theme to celebrate a soon-to-be little one in your life!
A "Santa Baby" party theme is popular around the month of December, or at anytime of the year for a December due date! These sock garlands are a fun, easy decor piece that double as a functional gift for the mom (and baby) to be!
I love that the colors of this theme aren't particularly gender specific, but you can always add in pops of pink and blue anywhere in the decor in place of red or green. Another idea is using red for a girl and green for a boy to have a play on traditional colors!
Some decor items I love are simple red and green items that really add to the "Santa Baby" theme!
Here's how we made this gorgeous party happen.
The Details
My favorite items that I think are really good at bringing this theme to life are…
This tassle garland was so easy to order and arrived super fast!
Check out our themed shirts we ordered! Isn't this maternity version so sweet?
Just look at that balloon garland. Swoon.
With such an intricate cake table, we just ordered a cake topper for our plain cake then added the extras.
Products we loved:
Helpful Setup information:
For this "Santa Baby" party, we included a balloon garland. These can be a major undertaking to create on your own. To make this party as simple as possible, we highly recommend hiring a balloon designer. If you really want to DIY the process, check out our guide that tells you how to build a balloon garland!
This party has a few different decor options. From streamers and garlands to tablecloths & cardboard cupcake tiered trays… decor needs to be setup properly to ensure a smooth, easy party. We share a guide on how to secure your party decor the right way, based on the surface and environment where you're setting up!
We started setting up the balloon garland 1 week before and stored it. I talk more about that process in my how to build a balloon garland guide. We hung the backdrop for our pictures and cake table the night before. All extras were added the morning of the party in a somewhat chaotic scramble. I prefer to prep as much as possible beforehand, but sometimes parties just don't work out like that!
Equipment
Equipment can have a big impact on how a party turns out. I talk a lot more about appropriate furniture, add-ons, and equipment to use in my checklists for age appropriate party prepping above.
For this particular party, I used several tables for items like food, gifts, and the cake/dessert. I also recommend a peacock chair if your guest of honor will be opening gifts during the party. Pro tip: you can usually rent one for significantly cheaper than the option to buy this chair, but it's an excellent item to own if you want to start a party business!
Food & Drinks
We prepped these dishes beforehand and stored them to have them perfectly prepped for a picture perfect serving:
Festive Christmas Charcuterie Board
This festive Christmas Charcuterie Board is perfect for your holiday get togethers and parties, where finger food is the best way to please a crowd. >> Learn how to make the perfect party platter. Then check out these great variations: Bagel and Lox Sharing Board and Winter Hot Chocolate Sharing Boa…
Check out this recipe
Hot Chocolate Bar (Ideas, Recipes, Toppings & More)
Set up your own epic hot chocolate bar that your guests will never forget using these easy recipes, ideas, and tips.
Check out this recipe
Strawberry Santa Hat Brownie Bites – I Heart Naptime
Strawberry Santa Hat Brownie Bites…cute, easy and delicious! The perfect no-bake treat for Christmas that everyone always loves!
Check out this recipe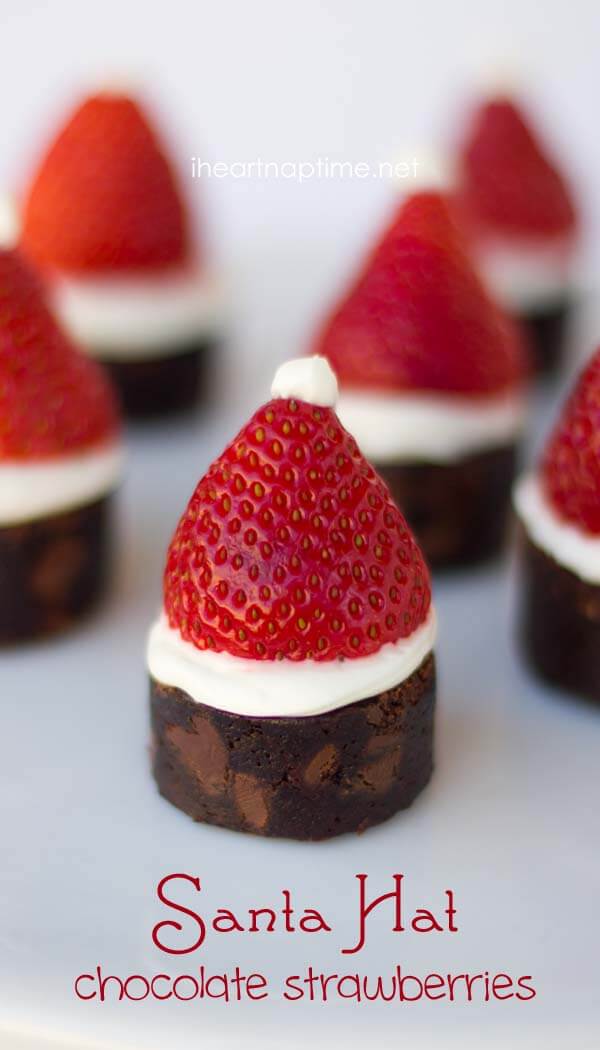 These specialty items didn't work with the amount of storage we had available the night before, so we picked them up the day of:
Custom cake
Custom sugar cookies
Vegetable Platter
Here's a comprehensive list of our favorite Christmas themed party recipes if you'd like to add a few more noms that are picture perfect for your guest's to enjoy!
Want to learn how to create a diaper cake like the one below? Check our how-to guide here!
Top tip
Time management is the hardest part of party host or hostessing, in my opinion. Do as much as you can beforehand, so that you can feel clean & put together to actually enjoy your party during the celebration.